JG Thomson, the Leith-based purveyor and blender of whisky, gin and rum, becomes official spirits partner of biggest-yet East Lothian festival (5-14 August)
J.G. Thomson, the Leith-based purveyors and blenders of award-winning small-batch blended malt Scotch whisky, gin and rum, has been unveiled as the official spirits drinks partner of Fringe by the Sea arts festival in North Berwick from 5 to 14 August.
At Fringe By The Sea, which recently unveiled its biggest programme ever, the JG Thomson core range will be available across the site's several bars. This range comprises of; Smoky Blended Malt Scotch Whisky, Rich Blended Malt Scotch Whisky, Sweet Blended Malt Scotch Whisky, Citrus Dry Gin, Bold Jamaican Rum.
A special menu of artisan cocktails featuring JG Thomson spirits will also be available at the festival which is expected to attract around 50,000 people. These serves include the G&T By The Sea featuring its Citrus Dry Gin, The Main Stage Cooler featuring its Rich Blended Malt Scotch Whisky and the Bold & Fiery featuring its Bold Jamaican Rum.
In addition, JG Thomson will have its own pop-up shop and tasting bar offering festival-goers the chance to sample its spirits and buy full bottles.
The partnership with Fringe By The Sea comes as J.G. Thomson, which was launched at the end of 2021, rolls out a new marketing campaign. This includes out-of-home advertising around Leith and Edinburgh, advertorials and content in a series of media outlets including Whisky Magazine, Decanter, Cask & Still and Scottish Field Magazine, plus a series of soon-to-be-announced partnerships with influential people and shops around the capital city.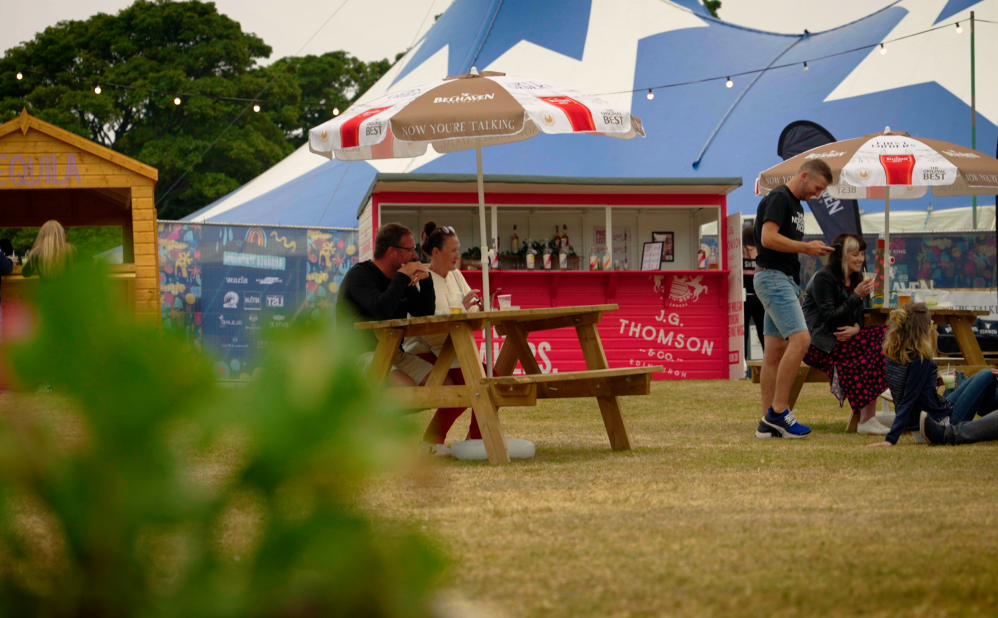 Fringe by the Sea features a mix of local, national and international talent across music, literature, comedy, science, film and nature. The eclectic line-up this year includes: music from such names as Texas, The Happy Mondays, and the RSNO; top comedians such as Frankie Boyle and Clive Anderson; and a rich literary offering from the likes of Alexander McCall Smith and Val McDermid.
The main setting for the festival is the Belhaven Big Top in the beautiful Lodge Grounds overlooking Bass Rock, Firth of Forth and Kingdom of Fife, with pop up events at North Berwick Library, the Scottish Seabird Centre and around the town.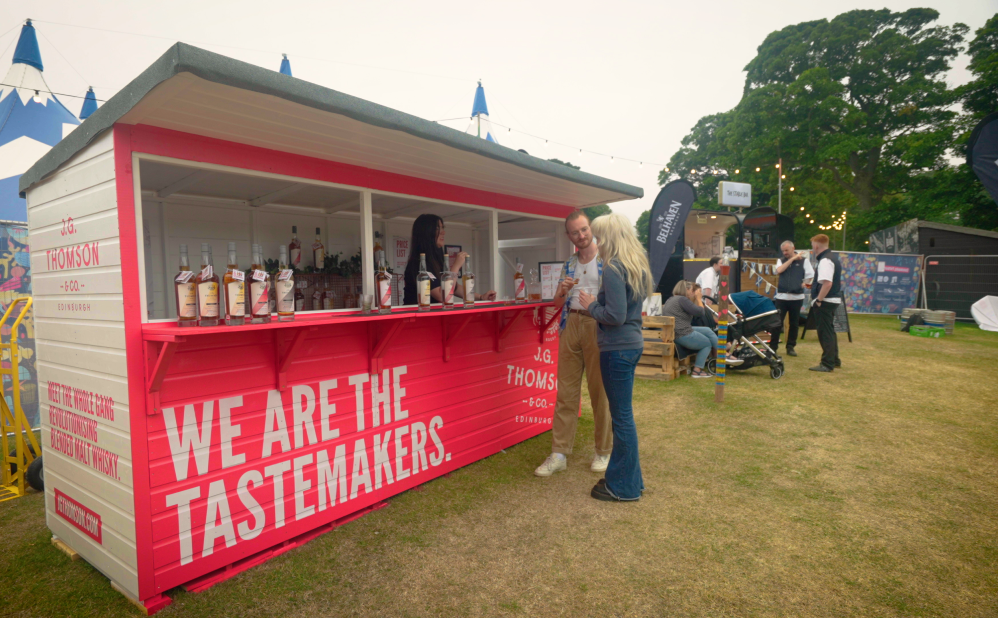 J.G. Thomson was originally a wine and spirits merchant with roots dating back to the 1700s. It occupied the Vaults in Leith – the now home of The Scotch Malt Whisky Society. Its success saw it own three bonded warehouses and their own cooperage and its whisky was exported all over the world. Times started to change, as did its fortunes, and the last bottling was completed in Leith in 1964.
But superior quality, blending and curating is in the DNA, and that heady mix continues today with the latest incarnation of J. G. Thomson for the 21st century. Building on the same founding principles, expert blenders are creating new and exciting spirit tastes in small batches for people who want an authentic experience. Its mission is to create whiskies, gins and rums that are a little out of the ordinary, blended with discriminating taste and appeal.
Festival-goers will be able to enjoy the high-quality J.G. Thomson range while soaking up art and culture in North Berwick in August.
Ria Mcadam, Marketing Manager at J.G. Thomson said:
"Our customers are discerning and looking try out new spirits tastes, whether that be small-batch Scotch whisky, gin or rum. Our outlook and approach is very much in line with Fringe by the Sea that brings art and culture to festival visitors through its broad programme of acts and events. We're therefore excited to the official spirits drinks partner of the festival, and we're looking forward to introducing our products to an even wider audience in the lovely setting of North Berwick, just down the coast from our home in Leith."


Rory Steel, Fringe by the Sea festival director, said:
"We're proud of the programme we've put together for this year's festival and we're sure to attract crowds from nearby and further afield. We believe J.G. Thomson will bring a brand new element to the excellent food and drink offering we have at the festival, and we're delighted to be partnering with such an innovative brand."